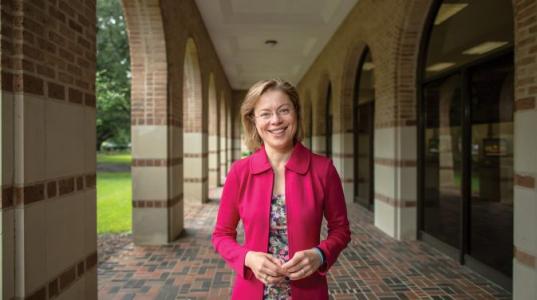 As the Vice President for International Operations and IT, Klara Jelinkova is responsible for strategic technology issues ranging from governance, policy, and resource allocation to protocol and organization as well as operational issues connected to Rice's global footprint and interest. She represents the university nationally and internationally. The Office of Information Technology (OIT), the Information Security Office (ISO) and the International Operations team report to her. Under her leadership, Rice University received two CIO 100 Innovation Awards (2018, 2019).
Before joining Rice in 2015, Klara served as the Chief Information Officer and Senior Associate Vice President at the University of Chicago. From 2006 – 2010, Klara was the Assistant Vice President of Shared Services and Infrastructure and interim CISO at Duke University. Prior to arriving at Duke, she spent ten years at the University of Wisconsin-Madison.
Klara is an active member of several regional and national higher education organizations. She currently serves on the boards of Internet2, the Lonestar Education and Research Network (LEARN), and several industry advisory boards. She is also the Vice-Chair of the RHEDcloud Foundation. In 2021, Klara was a Houston CIO of the Year ORBIE award winner. For her work related to identity and access management, she received the Internet2 Leadership Award in 2019. She holds a Master's in Education from Boston University and BA in Economics and Slavic Languages from the University of Wisconsin–Madison.